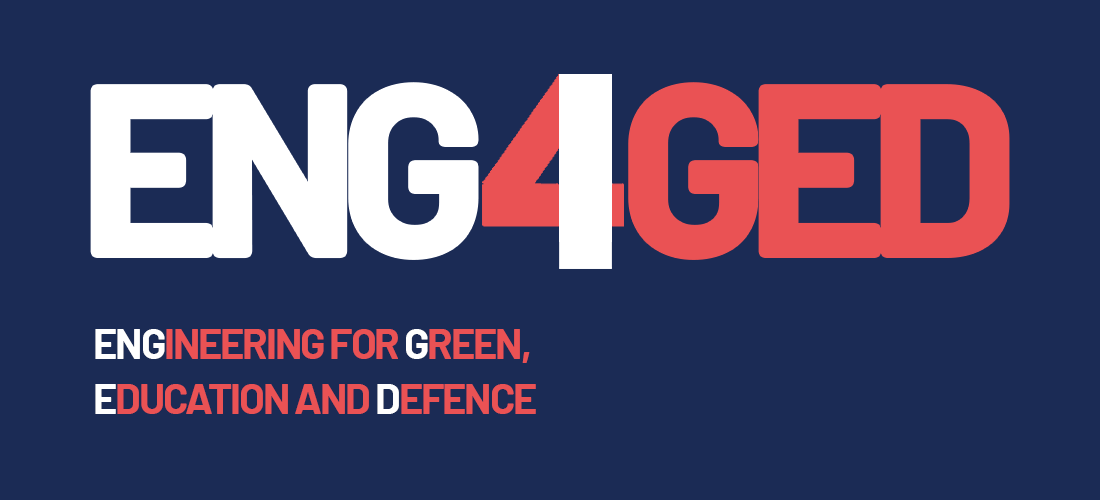 The project "ENG4GED – Engineering for Green, Education and Dual-use of Defence", is a series of interdisciplinary webinars on the new research frontiers on Data Science and Engineering in the fields of Green, Education and Defence. The project is organized by our lab.
The initiative is promoted by the Engineering Departments (DICI, DESTEC and DII) within the scientific initiatives organized by PhD students and the European projects ESTEM and ASSETS+. The aim of the project is to promote the dissemination of modern results of national and international interdisciplinary research in the fields of Green, Education and Defense.
The ENG4GED seminar series brings together academic staff, industrial experts and students. They will provide their personal insight on strategies, approaches and applications of novel practices that bridges Data Science and Engineering within the fields of Green, Education and Defence. 
Each seminar presentation will be held once a week on Thursday at 18:00. Each seminar will be followed by a live Q&A session. The participation is open and free. The seminar will be held in the online MS Teams channel available at the following link:
The first month of appointments will see the participation of national and international researchers. The first opening session will be held on Thursday, December 9 at 18:00 by Professor Andrea Bonaccorsi, a member of the B4DS laboratory, who will present the project with a webinar entitled "The impact of research: what do we research for?". The following appointments will focus on the theme of Education with Annina Albano from the University of Salerno on December 16 at 18:00 who will talk about "Digital Interactive storytelling (in Mathematics) for fostering student's development of problem-solving competency" and Anna Serbati from the University of Trento who will present the webinar entitled "Assessment and feedback: new approaches in technology-enhanced environments" on December 23 at 18:00. Moreover, on December 22 at 18:00, there will be an extraordinary appointment with the first international guest: Sam Arts from KU Leuven (Belgium) who will hold the webinar entitled "Natural Language Processing for technological novelty detection"
More information on the ENG4GED page available in the B4DS website.